Here's the thing, there's one true fact about both teams, they played their HEARTS out! As I watched them dribble up and down the court, I couldn't help but notice their tenacity to not go home empty handed and to play with all their might while giving it 100% of what they had signed up for. This in fact is the same level of winning that it takes when it comes to working on a financial game plan or to break any habits that you may not be proud of. In light of the fact that i'm often seeking out ways to reach goals or wondering why it can be difficult for some to play to the end of a commitment, here's 5 Finance Tips that I Learned from the NBA Championship.
IF YOU STOP IN THE MIDDLE OF THE GAME YOU LOSE
Having a desire to enhance your finance savvy and actually seeing it through are two entirely different things. It's easy to have a talk with ourselves, or to even have others that will motivate us on our finance journey but we win only when WE choose to execute. There are no easy ways to win financially beyond just simply doing the work. It takes commitment, sacrifice and the ability to drive forward against the odds when others may be a constant distraction (the other team). Remember, if you stop in the middle of the game you lose. Sure, there will be other moments to try again but theres such a sweet benefit to taking home the championship the first time around.
DON'T WORRY ABOUT SOMEONE PASSING YOU THE BALL, JUST STAY IN THE GAME
Have you ever experienced a financial moment when you thought about someone to blame for a money mishap and that person was never you? It's similar to playing ball and waiting to shoot only after someone passed you the ball. Staying in the game of finances is 100% the responsibility of the person on the receiving end. There's not a single person that can truly save us from the direction that we choose to dribble. In your moments of self-doubt when you feel like giving up-be reminded of how close you really are to making a slam dunk. Someone may pass you the ball (advice) but they can't score for you.
IF YOU MISS THE SHOT KEEP GOING
Maybe you're at a cross roads as you think back on the goals that were set at the beginning of the year, and as we soon approach the seventh month of this year you haven't met any of them. Now is the moment for you to take a look back at your playbook, suit up and get back in the game. It's not too late but know that the clock is ticking. Reassess your initial plans if you must. Maybe your savings goal was a bit aggressive or your desire to completely pay off all of your debt was out of reach. Pivot but keep going. If you watched the games, think back to how many times a shot was missed BUT the player didn't even look they just kept running.
AVOID THE NOISE IN THE CROWD
I always get so upset when the crowd boos or yells when the opposing team is preparing to take a shot-then I realized the true purpose in this is to distract the player. In the finance world when you are trying to successfully take a shot there will be many distractions from the crowd. When you have financial balance, you also gain more money momentum-which ultimately means it will seem as if more things are trying to block your moves. Strengthen every financial muscle inside of you and mental power to tune it out. Focus on the end goal (winning the championship)!
CONSISTENCY WINS
It's not how you start it's the consistency in your moves that win the game. Sure, someone had to win the game and they did. What's most important off the court and in our personal lives is that the only person we are playing against with our finances is ourselves. Create your own level of mastery. Go in the game as a winner. Take the shot.
..and lastly, those who truly respect and love you will understand your financial journey. Your wins will be celebrated and your detours will be understood. Stay in the game.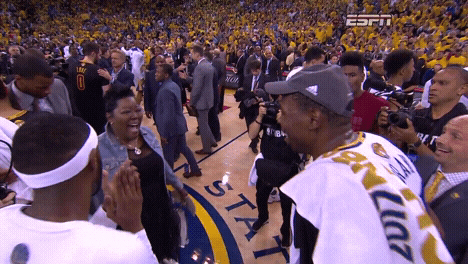 Did you take any life or financial lessons from the games?
Comments